Stephen A. Tibbo, C.A.S.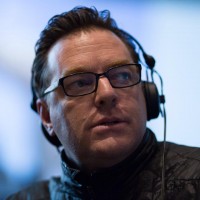 Stephen A. Tibbo, C.A.S. is the owner operator of Tibbo Sound, Inc.  He is an Emmy award winning sound mixer.  Stephen started in audio for film and television in 1987  as a boom operator and quickly worked up to mixing.  In 1989, Stephen mixed his first film and was hooked.
Over the past 24 years Stephen has worked on numerous films and television projects for most of the major studios.  Some of his credits include American Pie 2, Kiss, Kiss, Bang, Bang and hundreds of hours of television with seasons on Modern Family, Ghost Whisperer, and Life, as well as commercials and mixed media.
Since the early 90's Stephen worked in both production and post. In 2007, Stephen built his own stage to mix and ADR film and television projects. Stephen knows how to take a big picture perspective to help the filmmakers he works with get the best sound possible for their during production and post.